i think i'd like to keep a track of the fabric in my stash. it's so frustrating when you've used a fabric and you want to buy more or someone asks about it, and you can't remember the designer and/or the range.
from now on, as i buy it, i will try to make a record of it.
today, i got a little parcel of fabric in the post (which is just as well, because i needed cheering up!)
inside was...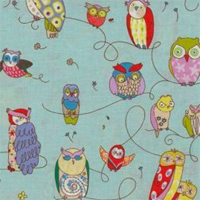 designer:
alexander henry
range:
n/a
print:
spotted owl (blue)
( + more )